Managed IT Solutions & Support
for Small to Mid-sized Businesses
We help business owners sleep better at night.
For over 20 years, small to mid-sized businesses have relied on Carisma to be their outsourced IT department. Acting as a seamless extension of your team, we can handle everything from network and server upgrades to everyday employee IT issues and questions — and everything in between. Let us take those time-consuming IT tasks off your "to-do" list so you can focus on your business.
What's keeping you up at night?
The "what ifs"
What if my computer crashes and I lose hours of work? What if the power goes out and we can't access our servers?
Many people don't think about backing up files or a disaster recovery plan until it's too late. We can set up a cloud-based or on-site solution for ongoing backups and help you create a "Plan B" for disaster recovery, so you never lose critical business information.
The unknowns
How old is our server? When do individual warranties expire? Is any of our equipment nearing the end of its lifecycle and at risk for not being supported?
Many businesses are so focused on meeting their customers needs that they don't have time to inventory their networks, servers and workstations. We can proactively manage your IT lifecycles, so you're never left scrambling to replace equipment in crisis mode.

The security threats
Is our information safe? Do we have enough measures in place to protect it? Do our employees know how to help prevent issues? What if we have a security breach?
Cybersecurity is one of the fastest growing areas of IT support today. With an ever-evolving landscape, it's nearly impossible to stay ahead of it all on your own. We can set up proactive controls like firewalls, email filtering and employee training — and quickly resolve security issues when they occur.
Get the full IT support your 
business needs
with

CarismaCare
CarismaCare is our all-in-one, turnkey managed IT solution for small to mid-sized businesses who want to "set it and forget it." While there are three CarismaCare plan options based on the level of support your business needs, our most popular Concierge Plan includes:


Virtual CIO services for
long-term planning, reviews,
and overall IT management


Optional monthly, proactive
white glove service check-in
visits with all users


Critical and security
patch management


Nightly desk cleanup
and cache removal


US-based, unlimited Help Desk with
live chat, on-demand desktop sharing
and phone support


24/7/365
monitoring for
all workstations and laptops


24/7/365
monitoring of servers


Backup system monitoring
and validation


Vendor liaison services with
full access to our procurement
and purchasing team


Monitoring and maintenance
for switches, routers,
and firewalls


Virus updates and
scheduled security scans
Tap into our team's expertise 
for one-time
or specific needs
Sometimes you just need help with a special project like upgrading your server or perhaps you only need a specific service like cloud-based back up services or email spam filtering. That's why we offer individual services such as:
Server and Network Maintenance and Support
Emergency Service
and Repair
Email Hosting
and Support
Cloud Integration
Services
We provide IT consulting and managed IT services to all types of businesses including law firms, engineering firms, accounting firms, marketing agencies, insurance companies, developers and more. Here's what some of our clients say about working with us:

Since signing up for CarismaCare, the team has been nothing short of amazing. They are quick to respond to requests, expert problem solvers and incredibly knowledgeable. Not to mention, they're all super friendly and a pleasure to work with.
Julie Gould
Carisma IT's service and expertise are
second-to-none. We have never had
a question they cannot answer or a problem they could not solve. We strongly recommend them for your IT initiatives.
Andrew Scott
What makes us unlike other IT providers?


We're super responsive.
Receiving help with any of your IT needs is just a click away. Whether you send an email or call our Help Desk, we respond promptly. You're never left waiting and wondering.

We're experts at what we do.
With a combined 63+ years of experience, our team of professionals have seen it all. We're expert problem solvers and can help you identify and prevent potential future roadblocks.

We're real (friendly) people.

No overseas robots reading from a script here. Our team is 100% U.S.-based in Doylestown PA with friendly, genuine and human service.

We make it easy to make the switch.

Dreading the thought of making the move to a new IT firm or hiring one for the first time? No worries, we make it simple with 5 easy steps to get you started. Most clients are onboarded within days.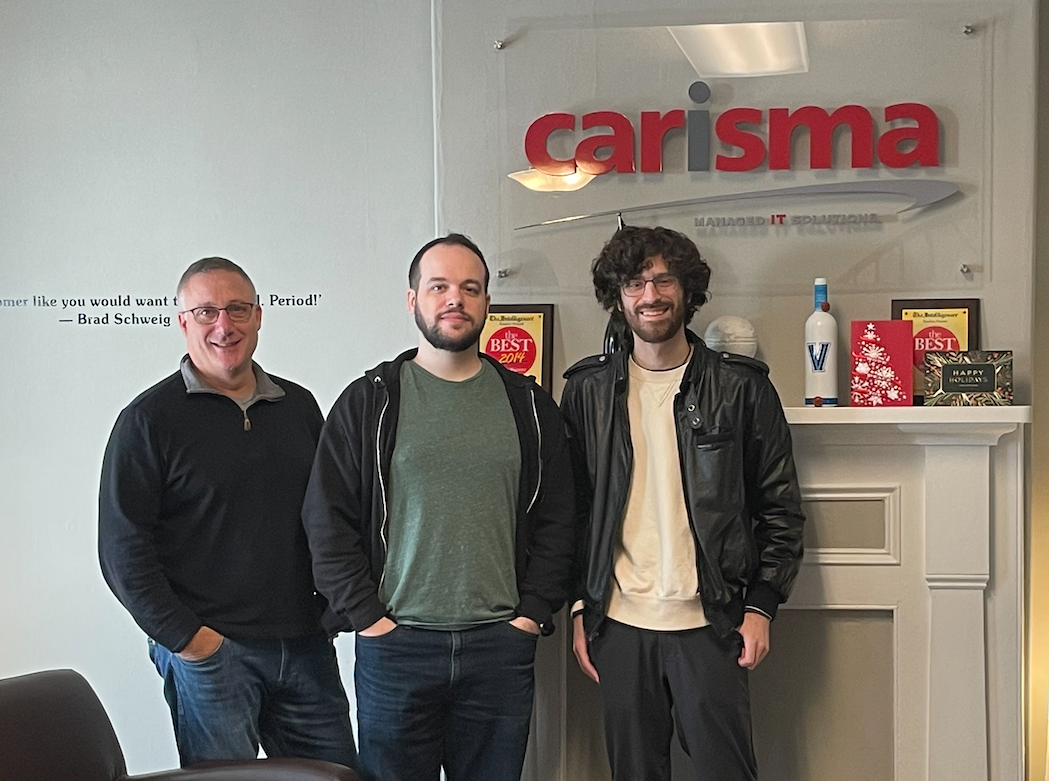 63+
Combined years of
IT experience
<60 min
Average response time

10+ yrs
Average length of our
client relationships
Considering outsourcing your 

IT for the first time?
Many of our clients came to us after years of managing their IT internally, whether themselves as a small business owner or with an employee who is wearing multiple hats. This may work for some businesses, but many find themselves in a constant reactive, crisis mode.
There's no time to proactively plan — to establish back-up systems, devise (and test) a disaster recovery plan, to research hardware and software purchases before making costly mistakes… and the list goes on. Plus, the time eaten up by helping employees solve everyday IT issues can significantly impact productivity. Often so much so that outsourcing IT to a firm like Carisma is a net cost-savings.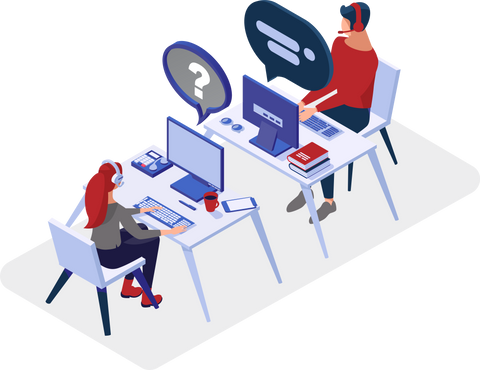 Office
350 North Main Street
Doylestown, PA 18901


Hours
Monday to Friday: 8:30am – 5pm
Saturday & Sunday: Closed


Call Us
215-489-9718

Carisma offers US-based managed IT solutions and support for small to mid-sized businesses including law firms, engineering firms, accounting firms, marketing agencies, insurance companies, developers and more. Call us at (215) 489-9718 to learn how we can help your business save time and money with the right IT partner in place.